article and model reviews by John Duncan, Parker Thompson and Richard Post
Summary of Model Classes | Freshwater Reviews | Saltwater Reviews
G.Loomis IMX-Pro V2 Design and Characteristics
Retrenching its commitment to high quality affordable fly rods, G.Loomis introduced the IMX-Pro V2 and V2S in March, 2023.  The new rod line is both broad and narrow, covering freshwater and saltwater applications from a 4-weight all the way to a 12-weight with models that are purposeful and distinguished.  Before reviewing model-by-model, we would like to describe the casting and fishing characteristics of each subgroup.
9′ Freshwater rods:   the 9′ 4, 5 and 6-weights are medium-fast action rods well-tuned for versatile techniques.  When we talk about trout rod "actions," these fall smack in the middle of the spectrum.
10′ Freshwater rods:  These models are designed for nymphing big rivers, fishing stillwaters and swinging for steelhead/salmon.  They are powerful and capable in every casting and line management technique, but lack the delicacy of Euro Nymph rods.  All 10-footers fish high in their line class, with emphasis on power and control.
Streamer rods:  How much different could they be?  The IMX-Pro V2 7810-4 and 8810-4 are completely unique animals from the 9′ 7 and 8-weight in this series.  If you seek a dedicated freshwater streamer rod, you'll find these to be firm in the butt and mid sections, but soft enough in the tips to load easily, cast with a high release point and deliver awkward flies with confidence and control.
Saltwater rods:  Welcome to the machine.  Loomis makes no apology for offering these overbuilt saltwater rods for such a reasonable price.  Yes, they are a little heavier than comparable NRX+ models, but like all Loomis saltwater rods, power and stability are dominant genes.  These are serious sticks, designed for aggressive casting and fitted with convincing components for long life in the salt.
G.Loomis IMX-Pro V2 Freshwater Model Reviews
This light and crisp 4-weight will impress the most discerning angler.  Loomis just makes great 9' 4-weights.  I threw it with an SA Infinity taper and would recommend this combination to almost anyone, although a Rio Technical Trout would swing even lighter for throwing dry flies.  It forms a natural tight loop in short and handles a lengthening fly line progressively and intuitively.  I would call this rod "fast," but not "extra-fast," an action that lends itself to dry flies and light dry-dropper rigs.  On longer casts, the butt section tightens up nicely with a gentle double haul, enough to provide an extra kick for turning over dry flies with long leaders, in the wind or at distance.
This versatile 9' 5-weight possesses that wonderful combination of fishability and feel that characterizes the "medium-fast" action class in well-designed fly rods.  Progressive in taper, this model invites the angler to use all parts of the rod for casting both short and long, making delicate dry fly presentations, casting nymphs and small streamers with confidence and doing all those subtle things that contribute to precise angling.  Advanced anglers will appreciate the silky feel and smooth delivery of a rod that "casts itself," perfectly tuned to its line weight.  The IMX Pro V2 9' 5-weight is a great choice for inexperienced anglers, too, because the sensitive rod blank communicates instructional feedback to the caster, helping to improve one's timing.  I cast this rod with an SA Amplitude MPX, which I thought was a perfect match, and later with an SA Amplitude Infinity WF5F, which I liked even more.  With the Infinity taper, I admire the way the fly rod stays engaged with the long line head and finishes the cast strong, as if expecting a standing ovation.
A fighting butt helps keep your reel out of the sand, so Loomis offers their 9' 5-weight with or without one.  The implementation of a fighting butt forces the grip to be mounted slightly higher on the blank, so fighting butt versions feel a little different from their counterparts.  In this case, the IMX Pro V2 590-4 FB is slightly bouncier in the tip and maybe just a tad less crisp along the whole blank.  I'm splitting hairs, but I can feel a difference.  If you don't need the fighting butt, choose the other version, but if you want the FB, you'll still be impressed with this fly rod.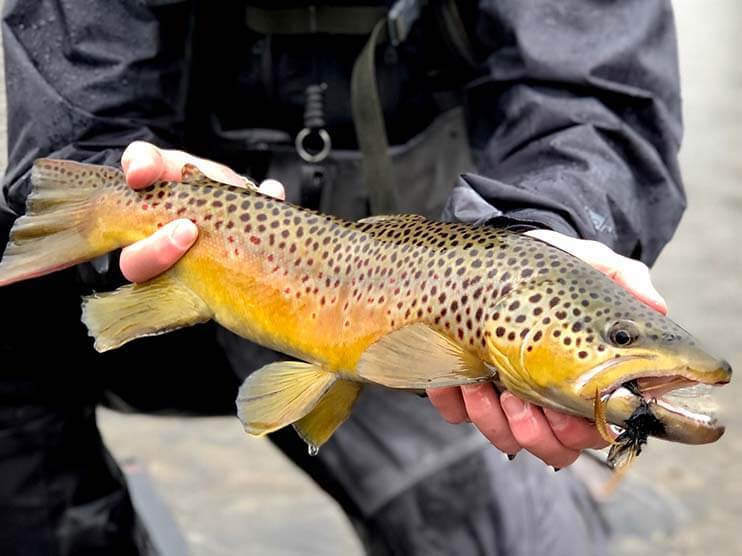 This model reminds me immediately of the 9' 5-weight in the series:  progressive, intuitive, finely tuned and pleasant to cast.  I would call this an all-around 6-weight, well suited to dry flies, nymphs and small streamers.  It lacks the stability and butt section power of a "fast" or "extra fast" 6-weight, such as the Loomis NRX+ 690-4 or Sage Igniter 690-4, which might be a designated streamer rod, but it is better than most other 6-weights for throwing large dry flies, dry dropper rigs and nymph/indicator rigs both heavy and light.  For heavy streamer fishing, choose one of the specialty streamer rods in this series, the 7810-4 or 8810-4.
This model casts and fishes high in the 4-weight category, a powerful and capable rod that emphasizes performance over lightness.  The length and strength of the IMX Pro V2 4100-4 require the mass and head length of an SA Infinity taper or similar long-bellied fly line.  It's more powerful than other 10' 4-weights, ideal for big water nymphing and stillwater fishing, but not a Euro-style stick.  It will be great on the lakes, whether casting for distance or working with a full sinking line.  This model has plenty of backbone for aggressive roll casting and line mending, and for lifting multi-nymph rigs from deep water.  So, it's great for high-stick nymphing, but not delicate enough for Euro techniques.
A roll casting and line mending machine, the IMX-Pro V2 5100-4 goes way beyond utility high stick nymphing rod.  I am impressed with the design attention that such a specialized rod received in this series.  Like most 10' rods, the casting doesn't really gel until there is 25' or 30' of line in the air, but from there out it's smooth as it can be, a finely tuned instrument for casting and all that follows.  I would particularly call out the sensitivity and lightness in the tip, uncommon attributes in a mid-price 10' 5-weight.  The SA Amplitude MPX was a good line match and I can only imagine that the SA Infinity taper would be an even better pairing because long fly rods have innate ability to mend and manage long-headed fly lines.
Rangy, capable and powerful, this rod fishes at one speed:  full.  Equally well-suited to stillwater angling and big-river nymphing, the 6100-4 also occupies a corner of the single-handed steelhead world.  In fact, fishing this rod all day for trout would be a tall order unless the water is broad and the catchables large.  Otherwise, like most 10' 6-weights, this is a lot of fly rod for trout.  The IMX Pro V2 6100-4 flexes into the mid-section and recovers with major energy.  It fishes high in its line class but wouldn't be described as "stiff" by most casters.  With an SA Infinity taper, it's like a 6 ½-weight, a fairly heavy rod, but the weight in the blank translates to power in the cast.  Roll casting and line mending come naturally to this fly rod, so it's an effective all-around tool.
This is a powerful single hander for steelhead, salmon, and the high-stakes stillwater fishing found in places like Iceland and Argentina.  Like the other 10-footers in this series, the 7100-4 fishes high in its line class.  Even with an SA Infinity taper, it wants a little more line weight.  Fish it with an SA or Rio steelhead-style floater, a Rio Predator, SA Titan, SA Anadro or other specialized line that possesses above average head weight.  It will handle sink tip and full sinking lines with ease.  For my single handed steelheading, the 7100-4 covers all of the applications in which I would normally fish either a 7 or 8-weight rod, so most anglers should choose this rod over the 8100-4 unless the rod will be designated for winter steelheading with heaviest sink tips on broad rivers.
Review coming soon!
Loomis nailed the taper on this rod.  It's stable, light and generates great line speed with streamer style lines.  I threw it with an Airflo Power Taper and was really impressed.  This is an uncomplicated fly rod.  In previous G.Loomis "streamer" rods, I've noticed a hitch in the tip section of the rod, an intentional design characteristic that enhances the ability to articulate a stripped fly on the retrieve.  This particular model is just a great caster.  Don't overthink it.  A great caster is a great streamer rod.
Review coming soon!
G.Loomis IMX-Pro V2S Saltwater Model Reviews
I would describe this rod as "light and lively."  It casts a Rio Bonefish WF6F line beautifully, but it responds best to a relaxed, trout-style casting stroke rather than an overpower, staccato saltwater stroke.  The freshwater version of this rod is well-suited to dry flies and nymphs, the saltwater version for flats fishing, trout streamers and light bass applications.
This model feels more like a member of the freshwater series than the V2S saltwater group.  It's a really pleasant caster with an SA Amplitude MPX or comparable weight forward line, but the action of the rod is "medium-fast" rather than "fast," so I would prefer it for heavy trout techniques rather than on the flats.  It casts a Rio Bonefish line adequately, but you can't hammer it into the wind and it takes a precise stroke to coax tight loops out of the rod.  It is very well suited for casting nymph/indicator rigs, bass bugs, mice and other wind-resistant outfits because the tip and mid-section flex with less line speed, forming casting loops even with a rig that doesn't really want to cast.  For heavy trout streamers, however, I prefer the IMX-Pro V2 7810-4.  Overall, I would describe this model as versatile and capable, but neither as light nor crisp as a more specialized saltwater 7-weight.
Casting ease and performance are excellent with this model.  Paired with an SA Amplitude Bonefish line, it generates the kind of line speed and distance expected from a $1,200 saltwater rod.  My only criticism would be the lack of feedback to the caster.  This model will be terrific on the water, but the feel doesn't approach that of an Asquith or Sector.  I can detect a subtle disconnect between the butt section and the rest of the rod, too, which affects accuracy somewhat.  The stiff butt seems designed for playing heavy fish but doesn't load much on the cast.  I would still offer this rod my strongest recommendation for someone comparing mid-priced 8-weights.
The 9, 10 and 11-weights in this series are standouts and clear representatives of the Loomis design legacy.  None would be considered "light," nor particularly touch-oriented, but they are serious saltwater blasters for the angler who expects a fly rod to respond when called upon.  The 990-4 has a sweet spot about 1/3 of the way down the blank that I recognize from some of the NRX+ saltwater models.  I cast it with a Rio Elite Permit line and easily felt the rod load with most of the line head in the air.  At this point, the stiff butt section launches the cast.  It throws tight loops and will be an easy operator for someone who naturally casts with power or pairs it with a relatively heavy fly line, like a Permit Taper, SA Grand Slam, Rio Flats Pro or the range of popular striped bass lines.
These saltwater rods are chips off the same block.  I was so impressed with the casting qualities, butt section power and overall accessibility of this 10-weight.  I threw it with an SA Amplitude Tarpon WF10F and thought they were made for each other.  Judging by general heft and stiffness, I would confidently recommend this model for the full range of 10-weight saltwater species:  permit, tarpon, false albacore, dorado, roosterfish and striped bass.
A classic Loomis 11-weight, this model is equal to the challenges of heavy tarpon, giant trevally and sailfish.  It's designed for power, durability and casting range.  Paired with a Rio Elite Tarpon line, which has a fairly heavy head, I found that it generates tight loops from short to very long and was not intimidated by an aggressive double haul.  The 10-weight in this series is enough for most tarpon.  This is your stick for Boca Grande or Costa Rica.