Design Characteristics | Model-by-Model Reviews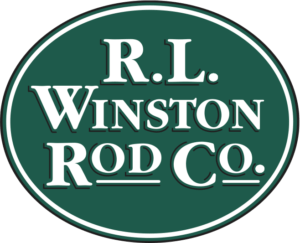 The look and feel of the Alpha+ is signature Winston, but beyond aesthetics, the Alpha+ represents a terrific accomplishment in rod design.  Winston undersells the innovation by describing the blanks as "highest performance graphite/boron composite materials."  Any angler holding the rod will notice how light they feel and swing.  Compared with other fly rods, the blanks are noticeably larger in diameter.  The "broad hoop, thin wall" offers stability and power while minimizing weight because the larger hoop naturally offers greater strength and torsional integrity.  In a power-oriented fly rod, this is a tremendous asset.
As compared with the B III+ series, the Alpha+ is more finely tuned for broader casting range in each model.  They are definitely fast action, but "progressive fast," meaning that they flex evenly and are intuitive to cast.  Some rods have a distinct sweet zone.  These are fantastic casters from short to very long.  Also, the Alpha+ series is a more contiguous group of rods that share casting and fishing characteristics throughout the range of models.  If you love the 8-weight, you'll love the 6 and the 10, too.
Compared with Winston Air Salt, Alpha+ is faster action and more powerful.  In the former B III+ series, the 7-12 weights were clearly saltwater rods, but the 5s and 6s were trout rods that flexed much more deeply.  All Alpha+ models have a saltwater action.  The 5 and 6-weights are clearly built for trout fishing – they come with cigar grips, maple inserts and nickel silver hardware – but the blanks are just as stiff relative to the higher line weights.  They will be popular for streamers, windy conditions, big water and heavy fish.
Model-by-Model Reviews
The Alpha+ 5-weight differs from the other models in this series in that it casts like a trout rod rather than a saltwater rod.  The sweet spot on this fast action rod is 40-60 feet, ideal for streamers and long range nymphing.  At short and medium distances, the tip drives through the cast for excellent leader turnover, but the weight and bounce of the tip is not particularly desirable for dry fly fishing (with most lines….see Rio Technical Trout recommendation below).  This tip mass will be an asset to the nymphing angler, however, as the rod finishes casts with authority and will handle strike indicators and split shot with ease.  Also, for a fast action rod, the Alpha+ 5-weight throws line mends off the tip and roll casts exceptionally well.  A Rio Gold is a good line choice for nymphs and streamers because it flexes the rod deeply enough to get a nice kick out of the butt section.  Some lighter lines, such as the SA Trout Taper, feel a bit disconnected. After much experimenting, I finally landed on the Rio Technical Trout as the best all-around line for dry flies and most nymph rigs. In fact, the rod does virtually everything well with a Technical Trout and feels great in the process. This line resonates perfectly with the rod, smoothing out the bumps mentioned above and casting beautifully throughout at broad range. I would give this rod high marks, with an asterisk for being sensitive to line pairing.
Strikingly light in spite of heavy-duty components, the Alpha+ 9' 6-weight sits up in your hand and swings like a feather.  The rod casts with power, control, line speed and feel from 30 feet to over 90.  It comes with either a "freshwater" cigar grip, wood insert and nickel silver reel seat, or a "saltwater" Full Wells grip, anodized aluminum reel seat and small fighting butt.  I prefer the Wells grip because it makes the rod balance lighter and provides superior leverage for aggressive casting, but either way, the casting and fishing qualities of this model are extraordinary.  Pair it with an aggressive weight forward line for best results.  It throws a Titan Taper, Big Fly Taper, Outbound and Bonefish taper like they were made for each other.  A Rio Gold isn't quite heavy enough to fully engage the rod, however.
The 6 and 7-weights feel like twins.  This is an explosive saltwater 7-weight with surreal lightness.  I am really impressed.  The look and feel are pure Winston, but the casting action surpasses any previous Winston saltwater fly rod.  These rods are designed with large diameter blanks and thin walls, a strategy that inherently offers maximum strength and casting stability with minimum weight.  You can really see and feel it in these rods.  I loved this model with an SA Bonefish 7-weight.  It loads and shoots this line forever.  To maximize loop control, fish it with a Rio Direct Core Bonefish WF7F.
In my hands, this model is the stiffest in the series relative to its line weight.  With an SA bonefish Taper, it requires a little extra power to cast short, but comes into its own over 40'.  For wade fishing, I would pair it with a Rio Flats Pro line to make it load and cast at shorter distances.  Serious saltwater anglers are going to love this rod.  It's one of the lightest on the market and equals or surpasses any other 8-weight for line speed.  This is a fantastic 8-weight for all day casting, a great choice for striped bass, peacock bass and other species that require high casting reps.
A chip off the same block, the Alpha+ 9-weight casts with range, power and line speed from 20' to over 90'.  Sweet throughout its range, this rod may offer the greatest "Winston feel" of any in the series.  I found this model to be somewhat sensitive to fly line pairing.  A Rio Flats Pro WF9F is a little too heavy, causing the rod to bounce in the tip and waiver in accuracy.  I loved it with the SA Bonefish and Rio Direct Core Bonefish lines.  A Rio Permit taper loads the rod deeper and reduces line speed, but fundamentally casts well for the angler seeking more control with heavy or wind resistant flies.  This is a versatile 9-weight with plenty of guts to play in the wind and put the hammer down on heavy fish.  Striper anglers will love the Alpha+ 9-wt for all day casting without fatigue.
I could cast this rod all day.  The Winston Alpha+ 10-weight strikes the perfect balance in generating distance and power with minimum effort from the angler.  The merits of a rod like this come out on the water.  It casts with line speed and accuracy that rival any 10-weight on the market, but I waste fewer false casts with a rod that engages the fly line from the first stroke.  At the end of the day, I'll make more good shots with this fly rod than many stiffer 10-weights.  It reminds me of the Sage X 1090-4, another personal favorite.  The Alpha+ 10-weight is an extremely useful rod, and one of the best feeling 10-weights.  Tarpon, Roosterfish and Permit anglers will find plenty of power in the butt section for playing big time game fish.