Over time, almost every angler feels the inclination to own a Winston.  The unmatched beauty of these rods stirs a longing for tradition.  Unquestionably fine fishing tools, Winston rods all seem to inhabit the mid-action category in terms of their flexing characteristics.  This article will help distinguish the 50 shades of green, helping you choose the right Winston rod for your fishing.  We begin by defining our categories of evaluation, followed by comparisons of all single-handed Winston rods.
Comparative Fly Rod Characteristics
Stiffness:  We grade the rods on a scale of 1-10 for relative action (higher number = stiffer fly rod).  The stiffest, "fastest action" rod is the Alpha+, designed primarily for power.  The "slowest action" Winston rod is the Tom Morgan Favorite, followed by the members of the Pure Series.  These rods are designed for touch and are coveted by dry fly anglers.
Distance:  The range in which each rod excels.  When choosing a rod, the angler should consider his or her most typical casting situations to select a rod that casts best in those high percentage scenarios.
Touch:  On a scale of 1-10, how well does the rod respond to subtle input from the angler?  Line mending, high sticking, slack line casts and tea cup accuracy are abetted by a responsive rod that may easily be manipulated by its caster.
Versatility:  On a scale of 1-10, is this rod everything to everyone (10) or highly specialized (1)?  This is not a quality grade, but rather a relative scale of specialization.  Many premium rods receive low versatility marks because they were designed for a specialized purpose (like tarpon fishing or long leader dry fly angling).
Feel:  As distinguished from "Touch," "Feel" is our mark for how much feedback the angler receives in the palm of the hand while casting.  When paired with an appropriate line, some rods merely get the job done while others feel exceptional.  In general, rods with high stiffness marks offer more power but less feel to the caster.
| | Stiffness | Distance | Touch | Versatility | Feel |
| --- | --- | --- | --- | --- | --- |
| Pure | 4 | short-mid | 9 | 7 | 10 |
| Air 2 | 7.5 | mid-long | 8 | 9 | 8 |
| Alpha+ Freshwater | 8 | mid-long | 6 | 7 | 7 |
| Tom Morgan Favorite | 3 | short-mid | 10 | 4 | 10 |
| Air Saltwater | 7.5 | long | 7 | 7 | 9 |
| Alpha+ Saltwater | 8.5 | longest | 7 | 6 | 8 |
Winston Freshwater Rods
The Pure Series represents the best of Winston, both past and present.  Deceivingly pegged as "slow action" fly rods, the progressive flex of the Pure is a reminder that the most versatile trout rods can do more than just cast.  Winston loyalists swoon at the feeling and touch in these rods, but every angler will notice their on-the-water capability in roll casting, line mending and tippet protection.  They cast dry flies magnificently, but have enough reserve power for dry-dropper and light nymph rigs.  We generally prefer Pure models for fishing distances of 50 feet or less.  For longer distance, dedicated nymphing and streamer fishing, go with the Air or B III+ Series, but if you are looking for a classic Winston dry fly rod, you have found it.
Lines:  The SA Trout Taper is the best line for Pure Series rods that are 8 1/2′ or 9′ in length.  We prefer the Rio Perception on the 7 1/2′ and 8′ Pure models.  Either the Perception or the Rio Creek line is suitable for 7′ and shorter models.
Outstanding model:  Pure 9′ 4-weight.   [model-by-model Pure reviews]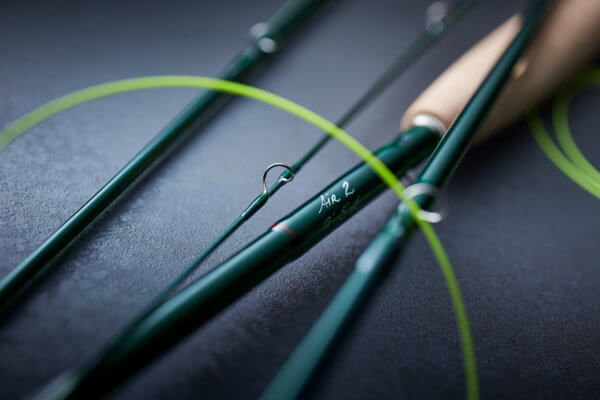 The Air Series 2 is the logical counterpart to the Pure.  Light tipped and more progressive, these rods cast tight loops and possess great command, especially at distance.  We characterize the light line models in this series as "long distance dry fly rods."  The 3 and 4-weights throw gorgeous, silky loops in the 35-70 foot range, designed more for broad water than for creek fishing.  They are wonderful driftboat dry fly rods and technical presentation tools for tailwaters and spring creeks.
The 9′ 5 and 6-weights are the finest fast action trout rods Winston has ever designed.  From short to very long, they cast with loop control and line speed that exceed any predecessor while delivering electrifying feel to the caster.  They are sensational fly rods, arguably best in class across the industry.
Line pairings:  The Rio Technical Trout brings out the best characteristics of every rod in this series, but we must also observe that Air 2 rods throw a Rio Gold as well as any fly rod on the market.  Many anglers choose the Rio Gold for its on-the-water fishing capabilities rather than pure casting characteristics.  If you are a "Rio Gold angler," you'll love these rods.
Outstanding model:  Air 2  9′ 5-weight   [model-by-model Air 2 reviews]
Alpha+ (freshwater)
There are two freshwater models in the Alpha+ S\series.  In our opinion, these are the best two fast action freshwater rods that Winston has designed.  Both feel better in the hand and cast with higher line speed and accuracy than their predecessors in the BIII+ Series.  The 9′ 5-weight is a class all-arounder, equally adept with nymphs or a small streamer as with dry flies.  It still looks and feels like a Winston, but has plenty of butt section for horsing around awkward nymph rigs, lifting flies from deep water, playing heavy and casting in the wind.  With a single dry fly, it casts for distance with excellent line speed and control, up to about 70 feet.  The 9′ 6-weight is available with Winston's traditional cigar-style trout grip or with a Full Wells, which we prefer.  The cigar grip comes with a wood insert and nickel silver reel seat, whereas the "saltwater" version comes with an anodized aluminum reel seat and small fighting butt.  This is an excellent streamer rod, almost unlimited in range and power, one of the few Winstons that makes you really want to step on the pedal and see what it can do.  Choose this rod for all streamer fishing as well as any big water trout application and most bass fishing.
Lines:  The 5-weight casts terrific with a Rio Gold or SA MPX.  The 6-wt needs something heavier, like an SA Titan Taper, Rio Outbound or a bonefish line.
Outstanding model:  Alpha+ 9′ 6-weight     [model-by-model Alpha+ reviews]
The TMF (8′ 4-weight, 2-piece) could remain forever in the Winston lineup.  Regarded as a legacy fly rod by many, it remains among the finest dry fly rods ever made and completely unique among 8′ 4-weights on the market today.  Here's how the Tom Morgan Favorite fits into the lineup.  It serves the same purpose as the Pure 8′ 4-weight, but is approximately 15% slower in action.  We recommend the TMF as a pure dry fly instrument, if only for the luxury of owning a pure dry fly instrument.  You couldn't choose a finer fly rod for fishing single dries at 15-45 feet under calm weather conditions.
Lines:  SA Trout Taper, Rio Perception, Rio Light Line    [see rod model for reviews]
Winston Saltwater Rods
Winston has done a fine job of differentiating saltwater fly rods.  The Air Series is easy casting with intuitive timing at almost any distance.  Anyone would pick up an Air Salt and cast it reasonably well on the first try because it flexes evenly and offers terrific feedback to the caster.  The Boron III+ has a classic "tip action," stiffening abruptly in the middle and lower sections of the rod.  These must be cast with a quick cadence and keen sense of timing, but ultimately offer another gear in terms of line speed and power.  They feel classically light in hand and you can really stomp on them when the wind is in your face and your target is swimming out of casting range.  We'll talk about the B III+ below, but the Air Saltwater Series is a distinguished group of fly rods with unique appeal.
The Air Salt is designed for three kinds of anglers:
Inexperienced saltwater casters who want a rod that feels vaguely familiar to a trout rod and helps transition to saltwater.
Experienced saltwater anglers who possess sufficient casting ability to cast a somewhat softer fly rod in the wind.
Dedicated saltwater anglers who own a multitude of fly rods for different purposes and wind conditions.  We all agree that a Winston Air is a luxurious choice on a calm day.
Winston has a distinguished legacy in this style of saltwater fly rod.  In the 1990's, the Winston BL-5 raised a metaphorical middle finger to the rest of the industry, a medium-fast action rod in a time when Sage and Loomis were chasing fast with faster and fastest.  Anglers loved the BL-5, even if there were days when an RPL+ was needed.  The Air Salt is made from the most modern materials and refined taper designs, but still intended for the angler who wishes to choose his or her fly rod for the day, rather than feeling compelled to fish a super fast rod simply because that's what we usually do in saltwater.
Lines:  SA Bonefish or Rio Direct Core Bonefish, SA Tarpon, SA Sonar Saltwater Intermediate
Outstanding model:  Air Salt 9′ 9-weight   [model-by-model reviews for Air Salt]
Alpha+ 7-12 weights are serious fly rods for the dedicated saltwater angler.  In pure power, they rival anything on the market.  We might compare them to the Air Salt by stating that Air Salt rods are saltwater fly rods for the "Winston angler," who prioritizes feel and touch over raw power, whereas Alpha+ rods are unapologetically designed for wide open saltwater fishing alongside Sectors, Asquiths and Sage Salt HDs.  As compared with the Boron III+ series, they feel lighter and cast with much greater accuracy.  There is no dog in the series.  Each model is highly capable under the most challenging conditions, but still castable and accessible in the way of every Winston.
Lines:  SA Amplitude Smooth Bonefish, SA Sonar Saltwater Intermediate. , Rio DirectCore Bonefish, Permit and Tarpon lines
Outstanding model:  Alpha+ 9′ 8-weight   [model-by-model reviews for Alpha+]