Christmas Island On The Fly
by Troy Youngfleish, Telluride Angler
Christmas Island, or Kiritimati, is the largest coral atoll in the world and provides the saltwater angler unmatched opportunities to target a variety of species.  While bonefish will always be the main attraction to visiting anglers, be prepared to take shots at Giant Trevally, Bluefin Trevally, Golden Trevally, Triggerfish, Queenfish and several other species willing to eat a fly.  The fishing on Christmas Island is unique in that all fishing with the exception of the offshore option is done on foot.  Whether wading a small pancake flat or exploring the ocean side flats of Paris or Korean Wreck, the intimate experience of stalking fish on foot is to be celebrated. The following information is intended as a reference for anyone planning to visit this isolated island wilderness.
The Essentials:  Gear for 6 days of fishing
Rods
Bonefish:  7 or 8-weight.  Having a backup bonefish rod is essential,  so if you are not planning on bringing a #7, count on having a second 8wt or that 9wt you packed for Hawaii.
Bluefin Trevally, Triggerfish and Queenfish:  9 weight
Giant Trevally:  10 or 11-weight
Offshore rod for Wahoo, Tuna and Sailfish:  12 or 13-weight
Reels
Bonefish and Trevally reels rigged with floating lines
Offshore reel rigged with intermediate full sinking line
Leaders
Bonefish:  10 foot 16# tapered leaders (4 leaders)
Trevally:  9 foot 20# tapered leaders cut back to 7 feet
Offshore:  level 60 lbs or stronger with wire bite tippet
Tippet
12lbs and 16lbs fluoro for bonefish (16lbs is desirable on "pancake" flats with deep water edges rimmed with coral)
#60 fluoro for Trevally and offshore
Knottable wire bite tippet for Wahoo
Flies
Bonefish:  2-3 dozen size #6 & #8
Trevally:  a few Crease flies (poppers) and Puglisi baitfish
Offshore:  Needlefish and Baitfish patterns, size 1/0-4/0
Critical Accessory:  Fishpond Quickshot Rod Holder
Gear Bags and Packs:  Fishpond Dakota rod/reel case + Fishpond Thunderhead Submersible Lumbar pack + Fishpond Thunderhead Submersible Duffel
Footwear
Simms Flats Sneaker with Simms Guide Wet Wading Socks
Sunglasses
Two pair, 1 for high light (copper or brown) and one for low light (yellow/amber)
Clothing
Lightweight, long sleeved and sun proof.  Bring a shade hat and rain jacket, too.
[Read Troy's Personal DIY LIST]
---
In-Depth Equipment Recommendations
While many bonefish destinations raise the question of whether an 8wt or 9wt fly rod is the best choice, Christmas Island can be a little more complicated.  This is a location where a 7wt is a legitimate option for most days of bonefishing.  Kiritimati is located only 200 miles from the Equator, resulting in very consistent weather, generally light winds and plenty of sunshine.  The flats are hard and white, fish can be seen from long distances and often you can put yourself in a position to cast at cruising or tailing bones at distances from 20 to 50 feet.  That said, I have definitely seen windy days more typical of other saltwater destinations and will step up to an 8wt.  An additional advantage of carrying an 8wt is the possibility of running into other targets while scanning the flats for bonefish.  It is very common to find smaller Bluefin Trevally and Triggerfish and I generally like to throw slightly larger and heavier flies at those fish. (Size 4 lead-eyed Gotcha?)
A 9wt may be the rod I have the least amount of use for on Christmas Island.  The caveat to that statement brings up an entire other element of this trip.  The majority of these trips pass through Honolulu for a day or two and it is well worth your time to find a day before or after being on Christmas Island to go after some of the largest bonefish in the world.  These are most certainly 9wt fish, both for their sheer size and the much larger flies Hawaiian guides tend to present to these fish.
Most of the guides at Christmas Island are more than willing to carry a second rod while stalking the flats, but I unconditionally recommend a Fishpond Quickshot rod holster so the wading angler is never far from the Trevally rod.  While the transition does not always go smoothly, it is a great advantage to have a 10 or 11wt within arm's reach when a pair of Giant Trevally violently announce their presence on the flats.  My first choice would be an 11wt. These fish are not leader shy and therefore I would suggest keeping your leader somewhat short to guarantee successful turnover of a large and cumbersome fly (7 Feet).
Most lodges on the island offer opportunities to go offshore and troll flies for Wahoo, Tuna and Sailfish.  This will require a fish-fighting 12 or 13wt and a quality large arbor reel spun with plenty of backing.  I have been witness to a great deal of gear destruction on these offshore outings so please reach out to us if you would like to discuss the best options.
Standard floating Bonefish lines are ideal for the shallow flats of Christmas Island.  Giant Trevally flies tend to be wind resistant.  In fact, one of the reasons we recommend Crease flies over conventional poppers is castability.  Rather than using a Tarpon Taper, try a Rio GT or SA Jungle Titan Taper.  These lines help tremendously with waterlogged, wind resistant flies.  Your offshore line should be an intermediate full sinker, such as the Rio Tropical Leviathan.

Note on bonefish lines:  Choose a floating bonefish line with a visible head color.  Stay away from white-headed and clear tip lines, which greatly impair one's ability to estimate the distance between the fish and your fly.
Flies
2 dozen bonefish flies, mostly Christmas Island Specials in size #8 with a few #4 and #6 patterns thrown in for the handful of deeper flats near the outlets of the lagoon.  The Moana's Chili Pepper is still favored by many guides.  Crease flies offer an exciting and effective choice for Trevally on the flats.  Puglisi GT flies present a large baitfish profile but are easy to cast.  Just a few large offshore baitfish patterns will put you in the game beyond the reef.
Note:  If you plan to fish Oahu, bring some size #2-#4 bonefish patterns to entice the big boys.
A common pitfall for Christmas Island anglers is underprioritizing footwear.  100% of your bonefishing will be on foot.  Christmas Island guides fish some of the longest days in our industry.   Spending 8+ hours on your feet is standard.  On Christmas Island, the more you can walk, the more you can fish.  Make sure to try on  your flats booties before you get on the airplane.  Comfortable booties designed specifically for saltwater wading with a heavy rubber sole are absolutely critical to your enjoyment and success.  I swear by the Simms Flats Sneaker worn with the Simms Guide Wet Wading Sock.
Clothing
Fast drying sun protective apparel is important on Christmas Island because the angler is wading most of the day and subject to both direct and reflected sunlight.  Christmas Island flats are typically white or light tan, so reflected light is particularly intense.  Don't let anyone tell you that it never rains on Christmas Island.  Take a good jacket.  In some years, it rains as little as 1″ in 12 months, but I've personally experienced 5″ in a week.  Twice.
---
Troy's Personal Gear List for Christmas Island
On my regular Christmas Island trips, I stop for 1-2 days on Oahu before continuing south to CI.  Needless to say, these days are not wasted in a hotel room.  This is my actual packing list:
Rods
7wt – Scott Sector 907-4
8wt – Scott Sector 848/4
9wt – Scott Sector 909/4
11wt – Scott Sector 9011-4
12wt – G.Loomis Asquith 1290/4
Reels
Tibor Everglades– SA Mastery Bonefish WF floating 7
Nautilus NVG 7/8– Rio Flats Pro WF8F
Abel SDS 9/10– Rio Flats Pro WF9F
Nautilus NVG 10/11– Rio GT 475 grain
Nautilus NV Monster– SA Titan Tropical Clear tip sinking 12
The Rest of my Core Gear
Simms 2019 version Flats Sneakers– most comfortable wading boots I have ever worn
Simms Guide Wet Wading Socks
Fishpond Thunderhead Submersible Lumbar pack
Fishpond Quickshot Rod Holder-this simple product is a game changer for Christmas Island
Fishpond Headgate Tippet Holder XL
Fishpond Dakota Carry on Rod and Reel Case
Hatch Nomad Pliers
Costa Brine sunglasses-Green mirror copper (1), Sunrise (1)
Parting Shot:  It's Out There!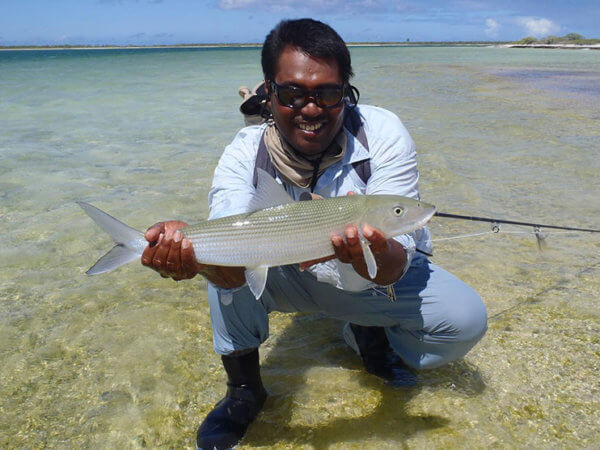 Christmas Island is one of the most isolated destinations on the fly fishing map.  There is only one flight per week and minimal medical resources on the island.  While I rarely purchase travel insurance if fishing in the Bahamas, Mexico, Belize and other global favorites, it is absolutely necessary to make the investment when booking this trip.  For a reasonable price, you can purchase a policy that will cover any emergency evacuation, avoiding a price tag in the 100's of thousands of dollars.  Bring a two week supply of any medications you have been prescribed as it is not unheard of to be stuck for an extra few days if they have plane or weather problems.  A first aid kit containing basics including Ibuprofen, Benadryl, Imodium, Cortisone cream, Band Aids and mole skin should be in your luggage.  At the conclusion of your trip,  consider leaving all of this at whichever lodge you are staying.  It will be greatly appreciated.  The residents of CI live a mostly subsistent life with support from other countries in the region.  Any gear, clothing, sunglasses, shoes and boots that anglers are willing to leave for the guides and their families will be fully utilized by the local population.  Tip in small denomination bills.  A $100 bill is unspendable in the center of the Pacific Ocean.
Finally, we recommend erring on the heavy side of duty-free shopping in Honolulu.  A thirsty angler could remain thirsty for at least 7 days.
Travel Insurance:
AIG Travel Guard: 800-826-5248
Global Rescue: 617-459-4200