Sage has never produced better fly rods, but with no less than 15 series currently in production, it is useful to understand the distinctions of each, whether you are choosing an all-around trout stick or a highly specialized rod for that once-in-a-lifetime expedition.  Budget is always a consideration, but in this article we will compare only the action, feel and versatility of the rods.  Also, we will identify a few of our favorite models to help anglers build their arsenals around cornerstone fly rods.  We begin by defining our categories of evaluation, followed by comparisons of all Sage freshwater and saltwater fly rods.
Comparative fly rod characteristics
Stiffness:  We grade the rods on a scale of 1-10 for relative action (higher number = stiffer fly rod).  The stiffest, "fastest action" rod is the Igniter.  Such a rod is designed for raw power.  The "slowest action" Sage rod is the Trout LL, designed to excel in the finer techniques of presentation.
Distance:  The range in which each rod excels.  When choosing a rod, the angler should consider his or her most typical casting situations to select a rod that casts best in those high percentage scenarios.
Touch:  On a scale of 1-10, how well does the rod respond to subtle input from the angler?  Line mending, high sticking, slack line casts and tea cup accuracy are abetted by a responsive rod that may easily be manipulated by its caster.
Versatility:  On a scale of 1-10, is this rod everything to everyone (10) or highly specialized (1)?  This is not a quality grade, but rather a relative scale of specialization.  Many premium rods receive low versatility marks because they were designed for a specialized purpose (like tarpon fishing or long leader dry fly angling).
Feel:  As distinguished from "Touch," "Feel" is our mark for how much feedback the angler receives in the palm of the hand while casting.  When paired with an appropriate line, some rods merely get the job done while others feel exceptional.  In general, rods with high stiffness marks offer more power but less feel to the caster.
| | | | | | |
| --- | --- | --- | --- | --- | --- |
| | Stiffness | Distance | Touch | Versatility | Feel |
| Igniter | 9 | longest | 4 | 4 | 5 |
| X Series | 8 | long | 7 | 8 | 7 |
| Trout LL | 5 | mid | 10 | 8 | 9 |
| Dart | 7 | short | 8 | 3 | 9 |
| Sonic | 7 | mid | 7 | 9 | 7 |
| Pulse | 7 | mid | 5 | 8 | 5 |
| Foundation | 7 | mid | 5 | 7 | 4 |
| | | | | | |
| Salt HD | 9 | longest | 7 | 6 | 7 |
| X (saltwater models) | 8 | long | 8 | 7 | 8 |
| Igniter (saltwater models) | 10 | longest | 5 | 4 | 5 |
| Maverick | 8 | long | 6 | 6 | 7 |
| Pulse (saltwater models) | 7 | mid | 5 | 6 | 4 |
| Foundation (salt models) | 8 | mid | 4 | 4 | 3 |
Sage Freshwater Fly Rods
Although designed for maximum line speed and power like its predecessors, the Igniter is much more fishable.  The Igniter improves over the Method in touch, feel and versatility.  In the hands of mere mortals like ourselves, the Igniter is simply more fun to cast.  Many anglers will buy an Igniter as their insurance policy against windy conditions on a destination trip.  The Method served the same purpose, but some anglers hoped they would never have to use it.  Conversely, the Igniter is a joy to cast and fish.  Whereas the Method almost had to be overlined, the Igniter casts a wide variety of lines with ease.  In the 4, 5 and 6-weight models, we were quite surprised to find that the SA Trout Taper is our favorite line for both loop control and distance.  This speaks volumes to how finely tuned these rods are, the parts perfectly married for a refined casting action.  It should probably go without saying, but Igniters also handle heavier lines with ease.  Our favorites are the SA Amplitude Smooth Infinity Taper and the Rio InTouch Gold.
Outstanding model:  590-4 Igniter
These dynamic fly rods load and cast at any distance with tremendous line speed, accuracy and feel.  They are "fast action" in the classic sense, but much more rangy and versatile than any previous Sage "fast action" fly rod.  X rods stand out from their predecessors in two major ways.  They are progressive action, meaning that they load true to the amount of line being aerialized.  The ONE, XP and Z-Axis had distinct flex points, limiting their range both short and long.  These were fine fly rods, but somewhat sensitive to casting style and line pairings.  The X will cast almost any line any distance, regardless of casting style.  The second major distinction is feel.  Fast action Sage fly rods have never lacked power, but no predecessor has offered such tremendous sensitivity and touch in combination with line speed.
Line pairings:  The X will literally handle any fly line, but since it is a pleasure to make nice, long casts with a progressive rod, we prefer slightly longer line bellies and subtle tapers.  The Rio InTouch Gold, SA Trout Taper and SA Sharkwave Ultimate Trout are the house favorites.  The Sage team prefers the Rio Perception, which is true to line weight with gentle tapers.  Steelhead/salmon models will handle any single-handed lines designed for those species.
Outstanding models:  590-4 X, 691-4 X, 896-4 X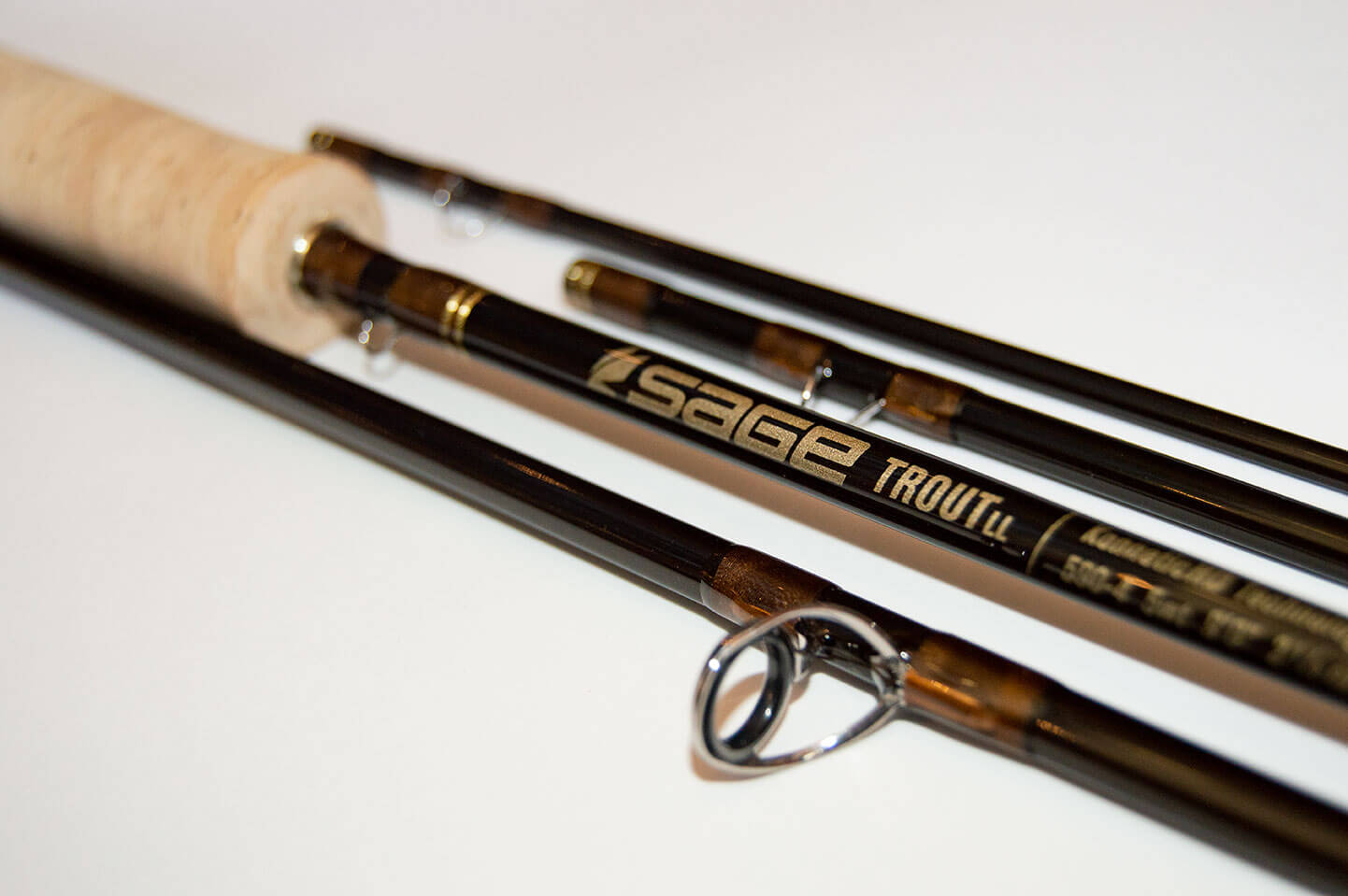 The Sage Trout LL offers the same technological sophistication and design refinement found in the Sage X, but in a classic medium action rod that excels in dry fly fishing and all the subtle arts of our sport.  The Trout LL is magnificently tuned for a wide casting range, much more even flexing than any previous moderate action Sage fly rod.  Exquisite loop control gives the angler the sensation of laying the loop down, placing the fly precisely in both direction and distance.  Whereas the X generates supreme line speed and power, the Trout LL allows the angler to control seemingly every aspect of presentation.  The Trout LL will be the best choice for anglers who prefer medium action rods (including former Sage rods including the LightLine, SLT and MOD), and for anglers seeking a dry fly rod to complement their Sage X or other fast action rod.
Line pairings:  Rio Technical Trout or SA Amplitude Smooth Trout Taper
Outstanding model:  490-4 Trout LL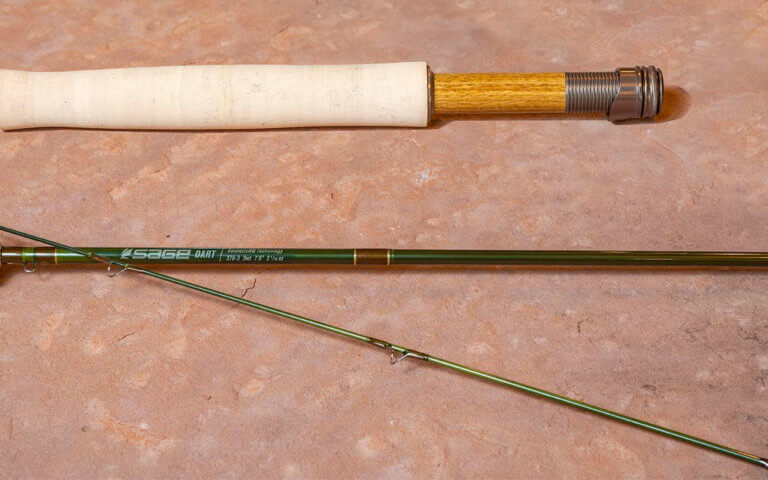 The Sage Dart answers a question that has vexed many of us who fish the high country:  Will Sage ever make a true creek rod?  The most important distinction between the Dart Series and the Little One is rod length, not technology or action.  At 7'6″, the Dart Series is completely superior for fishing the small waters.  It offers a tight loop alternative for those who prefer graphite to fiberglass at short distance.  So commonly the case, line pairing is critical.  For true creek fishing, we unequivocally recommend the Rio Creek line, the heavy head of which loads these rods at zero distance and delivers the fly with incredible accuracy.  In our opinion, the Dart is superior to short rods in the other categories from Sage.  These are small stream specialty rods at their very finest.  The Dart series offers more range than comparable Scott F Series models, but these are still "specialty" rods, as opposed to "versatile rods."  Darts comfortably cast leaders up to 11′ with maximum fishing range of around 40 feet.  They will cast farther, but we prefer longer rods beyond that distance.
Outstanding model:  376-4 Dart
Line Pairing:  Rio Creek line
The Sonic offers a fresh rod action from Sage, falling squarely between the Trout LL and X in stiffness.  From Winston or Scott, these would be considered "fast action" rods.  In the Sage lineup, they are "medium fast."  Each series of rods Sage introduces is better than previous offerings in the same price range.  In overall quality, the Sonic seems like a high-end rod restrained just enough to offer at a lower price.  Impressively, Sonics cast beautifully in a super broad range, with "sweet spots" that span 40 or even 50 feet.  These are refined fly rods that even the most experienced angler would take just about anywhere.
Outstanding model:  590-4 Dart
Line Pairing:  Rio Gold on most models, Rio Technical Trout on the 379-4, SA Trout Taper on the 486-4 Sonic.
With each new generation of mid-priced fly rods, Sage improves the value proposition.   On the whole, Pulse models cast too well and look too nice to cost only $450.  Sage continues to cover all of their rods with an Unconditional Lifetime Warranty, which really seals the deal.   We cast every rod in the series and found few duds.  Our favorites, however, were the opposite models from the Accel series.  In trout models, we recommend 9' Accel models.  In the Pulse series, our favorites are the 8'6" models.
Outstanding model:  486-4 Pulse
Line pairings:  Almost any WF line will be compatible with your Pulse fly rods.  Keep it simple:  Rio InTouch Gold or SA MPX
The Foundation is a nice little rod for the money.  Our favorites are the 490-4 and 590-4, but anglers will find the 690-4, 790-4 and 890-4 are serviceable fly rods in almost any angling situation.  The 790-4 and 890-4 fish high in their line class.  The 890-4 is a flats-style 8-weight and should probably be overlined for freshwater fishing.
Outstanding model:  590-4 Foundation
Line pairings:  Rio InTouch Gold or SA MPX
Sage Saltwater Fly Rods
The Salt HD Series represents a collective refinement of Sage's saltwater fly rods.  All line weights have a similar action:  very fast with super powerful butt sections and forgiving tips.  Some anglers found the Salt Series to be too weak in the light line weights and too stiff in the heavy rods.  The Salt HD takes the middle road.  These are classic, fast action Sage fly rods with overbuilt butt sections for playing heavy saltwater fish.  As compared will all predecessors, however, they are easier to cast and tolerant of a wide range of fly lines.
Outstanding model:  990-4 Salt HD    This is one of the great 9-weights ever produced, at once easy-casting and extremely powerful.
Line pairings:  Rio Bonefish, Rio Permit, SA Bonefish, SA Sonar full sink intermediate, Rio or SA Tarpon lines
We find the X Series saltwater models to have a casting ease and lightness that helps make the transition from freshwater to saltwater.  The Sage Salt Series emphasizes lifting power.  The X Series emphasizes pure casting proficiency.  X saltwater models offer more feedback to the caster and a little more line speed, especially with a trout-style casting stroke.
Choose an X over a Salt if you cast with a long stroke and generally prefer moderate action trout rods.  The X is a terrific choice for shallow flats, where casting is more important than lifting fish from deep water.  Choose a Salt over an X if you fish with Sage Method or ONE trout rods and prefer an extra strong butt section.  The Salt is also a better choice for striped bass, false albacore, tarpon, jacks, roosterfish and other species that may require extra lifting power.
Outstanding models:  790-4 X, 1090-4 X
Line pairings:  Standard tapered saltwater lines bring out the best in the X Series:  Rio and SA Bonefish, Permit and Tarpon Tapers.  The SA Sonar Saltwater Intermediate casts magnificently on these rods, too.
Igniter saltwater models feel more "explosive" than their Salt HD counterparts.  The Salt HD lays down the law for durability and power, but anglers  who seek the combination of lightness with an extra-fast action may favor the Igniter.  The Igniter gains power from its taper and materials, rather than from blank thickness and diameter.  These rods just feel lighter and more nimble, especially when casting in the wind.  Choose the Salt HD for playing heavy fish in deeper water, but for flats fishing, the Igniter will throw tighter loops with almost any saltwater fly line.  The Igniter loads easiest with a Rio Flats Pro, which has a heavy head.  This is a great combination for delivering your fly quickly at typical fishing distances.  For tight loops or extra long casts, choose a regular bonefish taper or its equivalent.  High line weight Igniters will also cast both floating and sinking freshwater-style lines with ease.
Outstanding model:  790-4 Igniter
The Maverick series punches well above its weight.  Designed expressly for saltwater, these rods have the backbone and components to fish in challenging conditions anywhere in the world.  They will catch all the same fish as X, Igniter and Salt HD rods, but their more expensive cousins are lighter and more specialized to their purposes.  X saltwater rods are especially easy to cast.  Salt HD have more fish fighting guts than any other rods on the market.  Igniter saltwater rods are the stiffest in class, lending to the windiest conditions.  Maverick falls in the middle, a highly serviceable saltwater fly rod that does everything pretty well and will make almost any angler smile.
Outstanding model:  890-4 Maverick
Although highly practical fly rods, we recommend that dedicated saltwater anglers choose a Maverick over a Pulse or Foundation as their primary saltwater fly rod.  Pulse and Foundation 8-weights are crossover rods, intended for both freshwater and saltwater fishing.   A Pulse or Foundation would make an adequate backup rod on a saltwater trip.