Telluride Angler's Top New Products for 2022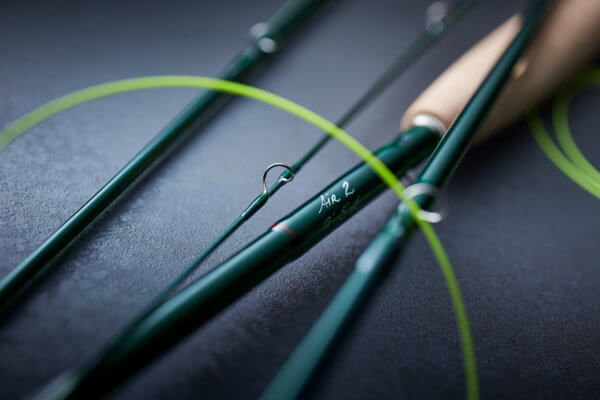 Sensational on the water and lovely to behold, the Winston Air 2 Series snuck under the radar of this Covid-affected year in our industry.  When enough anglers finally fish these rods, their due reputation will roll like thunder.  The Air 2 are fast action rods with notable power and finesse, rods that spring to life with a mere twitch, enabling the angler with hero casting ability and overall pescatorial skills.
The R8 Core is a compelling series of purpose-driven fly rods that covers most of the freshwater fly fishing spectrum.  As our customers would expect, we have cast every model with multiple fly lines and written detailed reviews which are posted on the rod pages and summarized in our model-by-model review article.  Many of the specialty models are standouts, including the 10′ 5-weight, 9 1/2′ 6-weight and 9 1/2′ 7-weight.  As a group, the 6-weights are stellar, but outstanding models are found in every line weight.  Sage touts the R8 as more "fishable" than previous fast action rods.  While generally more forgiving to a range of casting styles, our observation is that the models vary quite a bit in tapers, so it's crucial for the angler to consider specific fishing purposes when choosing a model.  Line pairing is more important than ever with this series, but the well-chosen R8 Core rod could become the favorite in the angler's arsenal.  We've cast them all, so we'll help you sort out the nuances.
Comes now the long awaited successor to the Hatch Finatic II, a reel that harkens the design of the original Monsoon but with a completely watertight drag system, improved function of the handle, drag knob and foot, a ported arbor for faster drying backing and a bright dip finish that accentuates both color and architecture.  This is the best Hatch reel to date.
Upgraded for 2022 on both the men's and women's side of the line, new Simms G3 Guide Waders represent outstanding value in top quality but practical stockingfoot waders.  The Gore-Tex materials themselves have been improved, now even more durable and breathable.  A comfortable "air mesh" suspender system feels weightless on the shoulders.  Articulated knees and the patented Simms hourglass bootie design reduce slippage and offer a more natural fit while wading.  Accessory organization includes removable tippet tender and stretch-woven flank pocket on the inside front chest.  Overall, the new G3 waders represent the evolution of the world's most popular chest wader.  As they roll out in the spring of 2022, Telluride Angler will strive to stock all popular sizes in both the men's and women's wader.
[Men's G3 Guide Wader]
[Women's G3 Guide Wader]
Why not waterproof?  The Fishpond Thunderhead lineup has taken over the fly fishing world with its practical and durable backpacks, slings, lumbar packs, chest packs and gear duffels.  Enhanced for 2022, the lineup features a proprietary waterproof fabric called NewStream, upgraded harnesses and straps, and a user-friendly "TRU Zip" closure.  Submersible to over 10′, you'll love how these packs store and protect your gear and accessories.
Fishpond Thunderhead Eco lineup
[Sling]
[Lumbar pack]
[Backpack]
[Chestpack]
[Roll-top duffel]
[Submersible duffel]
[Large Submersible duffel]
From a tackle standpoint, Euro nymphing is all about the right tool for the job.  Euro rods are highly evolved, none more so than the Sage ESN.  Now, Sage has designed a counterpart to these fine specialty rods, a reel of variable weight that can be adjusted to balance a rod of any length.  Since European nymphing lines do not vary by weight, a single reel to complement any Euro rod simplifies the kit for acolytes of this globally popular technique.  The Sage ESN reel has a completely sealed carbon fiber drag system and a closed frame to prevent fine tippets from slipping between the spool and frame.  A clever weight system allows the angler to tune the reel for use with any fly rod and a numbered drag knob with distinct detentes allows one to set drag tension with confidence.  Pair with a Sage ESN rod for the ultimate Euro nymph outfit.
[shop Sage ESN reels] [shop Sage ESN rods] [ESN "Ultimate Outfit"]
Simms fills a critical need with their new Flyweight Plier.  Suitable for both fresh and saltwater use, this plier's ergonomic design allows the angler to handle the tool with a variety of natural and useful grips.  The tool "falls into your hand" in a way that others do not.  Speaking of "others," our industry has been missing the high quality pliers previously manufactured by Abel (discontinued) and Hatch (production issues).  Anglers have been largely without a choice for serious pliers over the last 12 months, so this introduction is timely.  We have Flyweight Pliers in the shop now and are very impressed with the product.
Yes, we're big boys and can take the criticism for listing a vest among our favorite new products, in spite of the fact that most of us stopped wearing them during the Clinton administration.  This really is the better vest.  Comfortable, airy and extremely lightweight, the Sagebrush Pro optimizes storage with 17 pockets and a net slot.  The load feels light, but everything you need is right at your fingertips.  The front panel of of the Sagebrush Vest integrates with the Firehole backpack for an outstanding hike-and-fish pack combination.
[Shop Fishpond Sagebrush Pro Vest]
The problem with streamer fishing is that you need a fly line that is capable of carrying a heavy fly without destroying your cast.  The Elite Rio Predator makes a course technique elegant.  The clever taper on the aggressive head seem to lighten even the heaviest streamers and cast smoothly, naturally on most fast action fly rods.  They come in line weights #5-11 in four density options, covering a wide range of fishing opportunities.  Predator lines are plug-and-play for streamer fishing.
[Shop Rio Elite Predator Lines]
We love lightweight wading boots.  The new Simms Flyweight Access Boot features a closed cell foam lining and top-of-foot web lacing that add support and comfort to a boot that flies around the backcountry.  The exclusive Idrogrip Lite Vibram sole provides unmatched traction without adding substantial weight to this nimble boot.
[Simms Flyweight Access Boots]
---