article by John Duncan
reviews by John Duncan and Richard Post
photos by Kevin Feenstra, Rich Culver, Rasmus Oversen, Mark Seacat
JUMP STRAIGHT TO MODEL REVIEWS
Having grown up in western Washington, I spent plenty of days in my teens and twenties standing in steelhead rivers, generally fishless and always with a single-handed fly rod.  I came out of that period long on patience but without any two-handed casting experience.  That came later, in the '90s, grooved as a trout guide in Colorado.  My fishing buddies made an annual pilgrimage to the Deschutes, John Day, Wenatchee or Grande Ronde.  My recollection is that we took only two-handed rods on those trips, knowing that if the single-handers were in the truck, we would slip into using them out of familiarity.
Like most other skills in fly fishing, I found the learning curve to be steep and relatively painless with the longer rods.  With a few hints from guys like John Smeraglio, we learned enough to be dangerous within just a few days.  From the beginning, I felt like I could catch more fish on a two-hander than a single-handed rod on those big rivers, so it was easy to stick with it, raising my aptitude over the years, enjoying the daily satisfaction of getting it right from time to time, blowing past the bad casts and glowing in the good ones.
Even a complete beginner launches a few great casts, and if you're like me, you have a hard time wiping that smile off your face.  My skills have grown, but I'm still well south of an expert two-handed caster.  Please read these reviews with an appropriate perspective.  I'm sharing my observations in hopes they will resonate with other anglers, no matter where you are on the two-handed experience spectrum.  Rich and I have similar ability and experience.

Design Strategy and Prototyping
Scott Rod Designer Jim Bartschi applied a time-tested engineering strategy to Swing Series rods:  large diameter blanks with thin walls, the weight-savings, strength and stability advantages of which have been proven over the decades with rods including the Scott G-Series, Heliply, ARC and Centric.  These rods look heavier than Spey rods from other makers, but they are noticeably lighter.  They "communicate" to their caster better than other two-handers, so they are easier to learn for beginners and offer greater control for advanced casters.  They have a wide tolerance for casting styles and fly line pairings.  In fact, Scott provides a "grain weight window" for each rod, which we list for reference under the models on this web site.  This helps every angler choose an appropriate line, and it helped us with our field test.
Scott Pro Staff members Chris King (The Fly Shop) and Jeff Liskay (Great Lakes Fly Fishing) both emphasized Jim Bartschi's conviction that new fly rods should be introduced only when a superior generation has been designed.  Bartschi focusses on design rather than a sales curve.  We were impressed to learn that he staged several prototype testing events from which he received important feedback in refining the series.  This led to redesignating the grain window for at least one model, re-shaping the foregrips on all of the larger models and choosing reel seats that accommodate legacy reels including the Hardy Perfect in addition to the full range of current model Spey reels.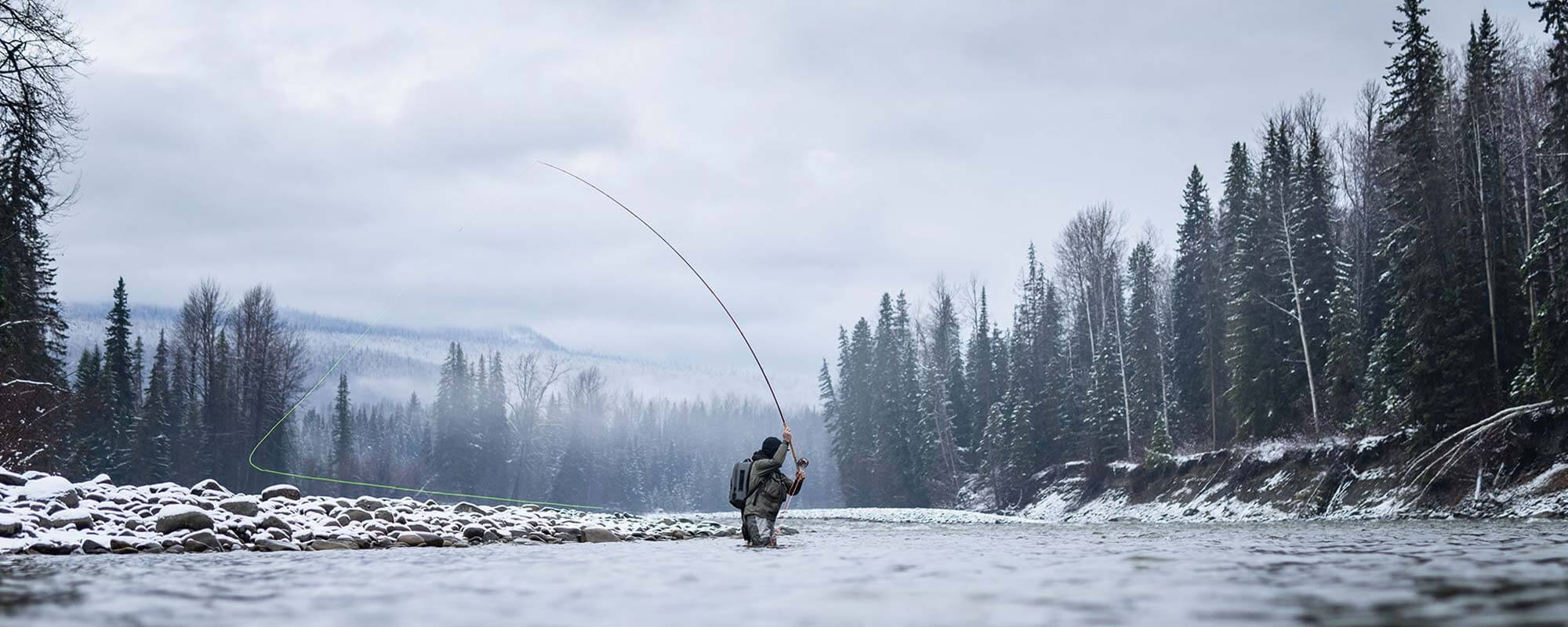 Field Test Site and Conditions
Rich, Parker and I took the entire lineup of Scott Swing rods to the lower Gunnison, a Colorado trout legend that doubles beautifully as a faux steelhead river.  Popular among trout Spey anglers, this section of the Gunnison features broad flows of optimal depth for casting two handed fly rods.  Line pairings are carefully noted in each review.  We cast Skagit heads on most models and Scandi heads where appropriate, each with representative leaders and flies sized per fishing application.  On Skagit heads, we added Rio 5'+5' Rio iMow tips to assimilate actual casting/fishing.
On field test day, we had a light upstream breeze, warm temperatures, and a host of fish rising to tricos and caddis.
Model-by-Model Review
Grain window:  270gr-325gr
John Duncan:  "Half pounder"   …as Jim Bartschi describes this model, which most will fish Trout Spey, but if you have the opportunity to fish it for grilse or half pounders, you owe it to the fishing gods to do so.  "Half pounders" are named like "baby tarpon."  If it's a Rogue River steelhead, it's a half-pounder, whether weighing 2 lbs or 9 lbs.  In any case, the Swing 1184-4 is most well-suited for two-handed trout techniques but will find many other playful applications on the river.
The manufacturer recommends a grain window of 270gr-325gr.  I cast the rod with a Rio Trout Spey integrated line at 265 which I preferred over both heavier Skagit lines that I tried (300gr and 325gr).  It's true, I don't care for short headed Spey lines unless absolutely required for the fishing, but there was something more going on here.  In my hands, the Swing 1184-4 definitely preferred the lighter line and longer, more gradual WF taper of the Trout Spey line.  The 265 grain loaded the rod perfectly and cast longer, tighter loops.  I would recommend this rod for soft hackle fishing, but not heavy streamers.  If you use a Skagit, choose a head toward the bottom of the grain weight window and with a slightly longer head.
Rich Post:  The 1184 is the Trout Spey specific model and it is meant to be fished with the shorter Skagit heads and Scandi hybrid style heads that Rio is calling Trout Spey. The rod is light in the hand and hides the extra length nicely, and the blank is very lively. Kind of "slow snappy" is what I would call it, with enough play for an easy wind up for touch-and-go casts and enough snap for dragging white rats across the water with the short Skagit heads. We cast the Rio Skagit Mini-Max Power 325 grain and 300 grain. Both worked well, but I preferred the 325. You got a little wider load window with this line and it gave me a half measure more time and control. You could fish a pretty large fly with this rod and line combination, but for truly large trout streamers you should bump up to the 1186. We also cast the Rio Trout Spey #3 at 265 grains and #4 at 305 grains. The rod handles both well, but I thought the 265 grain #3 was the more "pure casting" line with a lovely feeling and such an excellent snap to the blank on an off shoulder snake roll. The 305 #4 is a very good option for fishing larger soft hackles and small to medium sized streamers with or without Versitip leaders. This is a versatile trout Spey swing rod and a highly entertaining rod to cast and fish. Keep your hands inside of your body with this rod for optimum performance.
Grain window:  375gr-450gr
John Duncan:  This rod will convert many single-handed casters to confident two-handed anglers.  What a joy to cast.  I first cast it with a Rio Skagit Launch 400 grain head and found it ideal for heavy trout streamers.  Cast with a light iMow 5+5, it easily transported a #8 cone head streamer.  With a Rio Scandi 31' 360 grain head, it leapt through the guides and delivered bullets to the far side of the river.  I can imagine swinging a #8 GBS on the Grande Rhone or Wenatchee.  Heaven.  Of all the rods in this series, this model begs to be considered a "switch rod."  Thankfully, it is no such thing.  From my experience, "switch rods" cast equally poorly regardless of technique.  Does anyone actually overhead cast with an 11 ½' rod?  This is a pure two-hander of the highest caliber, remarkable for its loop-forming capability in a rod under 12' in length.  This is a great rod for learning two-handed techniques and a versatile, practical rod for crossing between heavy trout and light steelhead.  You might fish this thing 8-9 months in a season.  This may be the finest rod I threw all day, or at least my favorite among the lighter line weights.
Rich Post:  The 1186 was a standout in my opinion and probably the most surprising rod in the Swing lineup. About 10 years ago, there wasn't really a thing called "trout Spey." We were using switch rods with Spey tactics and also doing some heavy nymphing on the deepest runs in rivers like the Gunnison.  I don't think this model really fits into one style.  It possesses characteristics and of switch, trout Spey and real deal Spey rods all in one blank. Lightness in the hand and a crispness to the action that is noticeable compared to the 1184 stood out to me. I could cast this rod quickly and handle it much more readily than I can my L2H 1106 (a true switch rod) despite being 8 inches longer. That extra length and stability in the upper made it a true showstopper with a 360 grain Scandi head at 31'. It was a divine combination and surprised me with distance out the tip from energy applied. The Skagit Max Power 400 grain head was perfect. The rod engages the line along the whole length and I never felt a separation from rod to line along the sweep, even if my anchor wasn't just right. The rod seemed to always rock back into the ready position before I began the forward cast. I would fish a large streamer with this setup, but I wouldn't be afraid of fishing smaller streamers either. The absolute control allowed for a feeling of placement I rarely have with a Skagit head of any kind.
This is a truly unique rod that straddles the line between a trout Spey and a traditional light Spey rod that I believe will be the envy of any Spey caster that picks it up.
Grain window:  375gr-450gr
John Duncan:  Most anglers would fish a Scandi head on a 12 ½' 6-weight to sweep the upper water column on a summer steelhead river.  This rod throws a 31' 360 grain Scandi magnificently, but also has enough mass in the bottom end to handle a Skagit head in the 400-500 grain window.  We recommend it with a 400 or 425, but tried it with a 500 gr head and found it to have plenty of reserve.  This is another well-designed fly rod in the Swing series.
Rich Post:  The 1286 is a light two-hander in the traditional style, versatile with Scandi or Skagit heads, light in the hand and very stable and easy through the cast. I could throw the 360 grain Scandi head an awfully long way. That extra foot over the 1186 gave me sense of a longer wall to hold up my D Loop and I could really drive the tip of the rod with my bottom hand. Unbeknownst to us, we actually cast a 500 grain Skagit Max Power that was in a 425 grain box (check those line IDs). Long story short, the 1286 handled this line and I never felt like the line overpowered the rod, but I did notice that the rod and line weren't just right. The 400 grain Skagit Max Power was very good and I felt like the 425 grain was going to be the perfect line. This is a killer rod with a Scandi line for summer runs and a rod that would travel up the Miracle Mile on the North Platte with a Skagit set up for large trout.
Grain window:  450gr-525gr
John Duncan:  Almost every rod in this series feels lighter than any comparable two-hander I have fished.  This model radiates lightness, but still has the guts to handle a Skagit 500 grain with complete confidence and control.  While some rods in this series are clearly designed for one style of line head/casting/fishing, this model is equally adept with a Skagit or Scandi head.  We expect versatility in 7-weight two-handers and this rod delivers.  With a 470 grain Scandi head and a compact, quick stroke, the Swing 1287 delivers lasers to the far bank.  Touch-and-go techniques are second nature to a rod of this length and action.  Have you ever really believed in your single Spey stroke?  This is the rod.  The Skagit head requires a slower stroke, but patient acceleration will launch that heavy head off the butt section of this stable, powerful rod, turning over your leader with authority.
Rich Post:  We cast this rod with the Rio Skagit Max Lauch 500 grain and it was just right. All the way right, in fact. This is a steelhead and Skagit line specialist, very light for a 7-weight Spey rod and easy and comfortable right away. An iMow medium 5' and 5' tip felt spot on and out of all the 12'8" rods this one was the easiest for me with the Skagit head. It really liked a 470 grain Scandi Lauch, but the performance with the Scandi line of the 1387 would make me go there for a 7-weight Scott Swing with a Scandi head. My casts with a Skagit head were compact, smooth and easy.  The load was noticeably more solid and controlled than the 1286, and a measure easier for me than the 1288. This was my favorite 12'8" Scott Swing rod.
Grain window:  450gr-525gr
John Duncan:  The essence of aerodynamics in a Spey rod, this model throws a 470 grain Scandi like they were born in the same cradle.  Keep your hands "in the window." It will cast a 500 grain Skagit with complete confidence, but it really excels with the Scandi, with which no river will seem too wide.  What impresses me most is the line speed that is achievable with the Scandi head.  I cast it again and again just to watch my loop in the air, and many of our customers will throw a prettier loop.  If you fish broad rivers that are well-suited to a full floating line, such as the Clearwater and the Deschutes, this rod opens a new dimension.
Rich Post:  If you have room on the river you're fishing, this thing is a weapon. I liked the out-of-orbit distance with the Rio Scandi Lauch 470 grain line. You could simply throw it across the river at will. The extra length gave me the feeling of launching line off of a ladder with the Scandi head. It absolutely heaved the 500 grain Skagit head as well, and I could get a little more distance than the 1287 when I hit the Skagit head just right. The 1287 was more repeatable and faster to fish than the 1387 for me. In a perfect world, I'd have a 1287 with a Skagit and tip setup for swinging slow and deep and a 1387 with a Scandi rig for fishing the upper water column. Take your surroundings into consideration when choosing between the 7 weights.
Grain window:  525gr-575gr
John Duncan:  It took me a minute to find my stroke with this rod.  I cast it with a Rio Skagit Launch 550 grain line, which I eventually concluded was approximately the right weight.  At first, I was standing in fast-moving ankle-deep water at the head of a riffle.   I had trouble consistently loading the rod here, but when I took about 20 steps downstream into calf-deep water that had slowed to walking pace, I was able to place my line head more precisely and slow my casting stroke down to Skagit pace.  In slowing the cadence of my casting stroke, I found that I was also able to apply more power on the forward stroke, and my cast came to life.  Distance and control came naturally.  I concluded that this rod is tuned to Skagit heads, rather than Scandi or long-bellied Spey lines.  It's a highly purposeful rod in this length and line class for Skagit fishing on all but the broadest rivers.  It has plenty of backbone for lifting long, sunken heads and the resilience to withstand a powerful stroke for punching your Skagit head under challenging casting conditions or less than optimal wading scenarios.
Rich Post:  This is a winter steelhead rod through and through with a little more backbone that requires a bit more concerted pressure through the sweep to engage the blank fully. A 550 Rio Skagit Max Lauch was a great pairing.  I noticed the added substance to the blank over the #7 and the taper that felt a hair steeper and shade stiffer along its length. Bigger flies and heavier sinking tips along with the new breed of sinking Skagit heads are what the 1288 wants to cast. It wants to lift too, and you notice the butt section and the stiffer feeling of the blank. I had to slow down and be more present to achieve optimum performance. An 8-weight with a Skagit head is where I start to get out of my element and I feel the weight of the head. My lift, sweep, stop starts to suffer with the heavier Skagit heads. No fault of the rod, just my lack of experience with the bigger lines.
Grain window:  575gr-650gr
John Duncan:  On first cast, I said, out loud, "Everyone should own one of these, even if you don't fish with it."   I've never cast a more empowering two-handed fly rod.  It's just explosive.  First, I tried it with a Rio Skagit Launch 625 grain head and could not have been more impressed with the intuitive feel this rod has for the line, and the raw line speed with a Skagit, not commonly chosen for casting prowess.  It lifts and flattens the loop impressively, carrying the heavy head and sink tip as far as one cares to throw it.  Casting distance was, predictably, even more impressive with a Scandi 610 grain (36 foot head).  From a guy who normally requires a few dozen casts to figure out a new Spey rod, I just want to say that this thing is like a smart car, or perhaps a walker.  I felt like I could do no wrong.  On my first cast, my leader got hung in willows on the far bank of the river, easily 110 feet away.  I know casters of that caliber but have never personally thrown a cast of that distance.  Everyone is a hero with this rod.
Rich Post:  This rod is an absolute gun slinger and possibly the best two-handed rod I have ever cast. Everyone should own one of these, I don't care who you are. We cast a 625 grain Rio Skagit Max Launch and a 610 grain Rio Scandi Launch. Both lines screamed out of the rod tip and unfurled at a commanding distance. With the Skagit I felt like I had the most control and I could manipulate the cast more than just wind it up and let it fly. The rod controlled the head through the sweep and lifted it into a D more easily for me. I felt like I had more time and space in the moment of casting and that resulted in ease of performance. The distance with the Scandi head was remarkable and I have never cast a two-handed rod as far. You feel like you're throwing loops off the tip in a statuesque manner. No wobble, no separation from the tip to the butt, just a perfect lever for throwing fly line. This might be the one in the lineup. Versatile, powerful and easy, light and manageable for its size:  all the big waters and all the big fish.
Grain window:  650gr-725gr
John Duncan:  I've conditioned myself not to expect much enjoyment out of casting Skagit heads.  In general, they are thugs.  This was the first rod I cast on field test day and was pleasantly surprised at how naturally the rod embraced the Rio Skagit Launch 700 grain line, seeming to cradle the heavy head within its flex profile and gently lift it into space on the forward stroke.  This is not the kind of rod that I cast well, but my casting loop was downright aerodynamic, even with the heavy iMow tip.  The rod doesn't require as much patience as I anticipated, but you can't rush a Skagit cast.  With a heavy tip, it's like lifting bowling balls out of a swimming pool.  This is the right tool for heavy winter fishing on all but the largest of rivers, where the 14810-4 finds its purpose.  Growing up fishing the OP, we often used 10-weight 2-handers on rivers like the Hoh and Sol Duc.  I would unconditionally recommend this rod for the winter grind.
Rich Post:  The first thing I noticed was how light this rod is for a 10-weight Spey rod. Yes, it is short for most 10-weight Spey rods, which typically reside around 15 feet long, but it is still a 10-weight with a hefty butt section. That is a lot of rod to have a sense of lightness, but this one does. We cast it with the Rio Skagit Max Launch 700 grain head and it took me a second to figure out. You do, in fact, need to apply some muscle to lift and place a 700 grain head. This rod is intended for large salmon, big ones. The shorter length allows you to do battle with truly large fish in tighter quarters and makes moving the rod around a bit easier.
Grain window:  650gr-725gr
John Duncan:  We cast this behemoth with a Rio Skagit Launch 700 grain head (25 feet), which felt well-matched, given the onerous task of scouring the bottom of swift, frigid winter steelhead and salmon rivers.  I recall exploratory trips in my youth with a 15' 10-weight Scott ARC and who knows what sinking line.  It was an exercise in brutality.  This rod feels much heavier, but what almost-15-foot rod ever didn't?  The mere act of holding a 700 grain line as high as a flagpole is a bit tiring, but perhaps less so with a modern rod like this one.  It casts great.  Honestly, loading and delivering with this rod was as easy as any other rod in the series, but not every angler will need such a specialized winter two-hander.
Rich Post:  Big dog right here. I can imagine this rod is light relative to line weight and length, but it was a lot of rod for a little old trout fisherman.  I hadn't picked up a rod larger than a 13 ½' 8-weight in a long time and arrogantly assumed that I'd grab the 14810 and put a hole in the other side of the bank. It took a few casts for me to get it going, and I began to cast better once I had an idea of how to swing this 14'8" rod around. I needed a softer anchor placement and a gradual, focused sweep but with more effort from me to form good D loops. I see my personal two-handed fishing topping out at a 14 foot 9-weight, but for the largest rivers and biggest fish I can see where you would need it.
Swing 987-4 (9'8″ 7-wt, single hand)
John Duncan:  Awesome with a nymph/indicator, this model is unimpressive with a heavy headed streamer line, such as the SA Titan Long WF7F.  It's about rod taper, not power.  Characteristic of Scott's most specialized historical nymphing rods, the Swing 987-4 flexes sufficiently into the mid-section to put a lot of graphite behind uni-directional techniques, such as roll casting and line mending.  The stiff tip forces the rod to flex deeper than the 988-4, which casts more "off the tip."  The 987-4 is excellent for throwing awkward nymph-indicator rigs and doing all the critical post-cast work to manage line on the water.  The Swing 988-4 is a better choice for pure blasting with a streamer.  The Swing 987-4 fishes very well with an SA Anadro, SA Infinity or classic salmo/steelhead long bellied line.
Rich Post:  This rod caught me off guard a bit. I expected it to be a superhero streamer rod that could do double duty as a nymph stick. What it does exceptionally well, and what it is designed for, is a specialty big water nymph rod. A Scientific Anglers Infinity taper is very good, as well as the SA Anadro. It didn't like an SA Titan Long WF7F. That line felt like it overpowered the middle of the rod and I couldn't really drive line through the cast. It's completely different with the Infinity. I felt connected and so in tune with the line, my mends felt like I ran down the fly line and simply moved aside the portion of line I intended to. It reminded me of the old Scott Nymph Special, although remarkably lighter in hand. Indicator fishing for salmonids up to about 15 pounds on the high end is what I see as this rod's ideal spot. Swinging smaller flies on a floating line is another ideal application, the fine mending ability of the blank affording magnificent line management through the swing. Alaska trout and salmon indicator fishing would be ideal as well. I would personally take another rod for large mousing, like the Centric 907 or the Swing 988.
Swing 988-4 (9'8″ 8-wt, single hand)
John Duncan:  In contrast to the 987-4, this rod launches right off the tip.  It's a flamethrower, a pure caster of the highest order.  Swing this rod for steelhead or fish it for dorado in the Bolivian jungle.  Take it to Jurassic Lake or pitch shooting heads off the beach for silver salmon.  This rod is about distance, stability, control and power.  It's an excellent rod for beach fishing striped bass.  It will handle any fly line, but excels with heavy headed and short headed lines, including the SA Anadro, SA Titan and Titan Long, jungle-style lines, striper lines and saltwater lines suitable for surf casting.
Rich Post:  This rod is the line slinger of the two. If the 987 is more focused on control, the 988 is more geared toward power. It has a steeper taper and faster profile than the 987 and it is my choice for throwing larger streamers and single-handed shooting heads and sinking tips. The added lift and more traditional fast feel give the caster more control. An SA Anadro line simply flew out of the tip with long level loops and incremental control of the line leaving the tip. The 988 handled a Titan Long with noticeably more control and confidence. I would pick this rod as my Alaska mouse and streamer rod and would be less apt to nymph with this one.  This is an excellent choice for silver salmon and possibly the best single handed 8-weight available for Alaska. The Swing 988 is a rod to consider for blind casting in the surf as well. With added length and a stout action that welcomes shooting heads, this rod should find a home among surf casters up and down the Atlantic seaboard.
Rich Post, parting shot:    There is something more to two handed casting. Part of the intrigue for me is I always feel like I'm learning and polishing my cast. As aggravating as the stripping and line management is, when you become efficient at managing the chaos there is a satisfactory feeling of accomplishment each time. When you hit all the parts just right and line leaps through the air, yarding running line through the guides until the head finds the reel end and you watch that bolt of lightning unfurl and lay out, it feels good, all the way good.
If you haven't made the jump to Spey rods, we hope this article lights the fire.  It's a new dimension, an opportunity to re-learn fly casting, to take this magnificent journey again from the beginning, but perhaps faster this time.
A big shout out to the Rio team for helping us assemble the broad array of heads and tips required for this casting event.